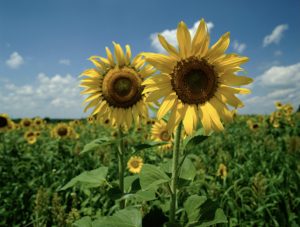 Sunflowers and Zinnias in the Fall – September 9 through mid-October (dependent upon weather). We have acres and acres full of a variety of gorgeous sunflowers just screaming to be photographed and enjoyed. Sunflowers should last until mid October.
Entrance into the Sunflower area is included with admission.
Sunflowers may be purchased by the stem or via one of our vases. A limited number of cutters will be available for use. All Sunflowers are $1.00 per stem, no matter color or size. We also offer different vases at a variety of price levels.