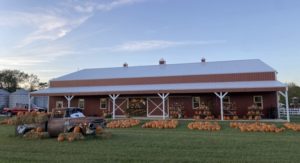 FIELD TRIPS​ – On any given day at Van Buren Acres, you'll see the sights and hear the sounds of children laughing, learning and playing. We offer fun educational field trips to pre-school, elementary, middle school and high school age students. Having grown up on farms, we believe it's important that the heritage and dynamics of agriculture is something that all children have the chance to be exposed to. It just so happens that we're able to help accomplish that goal in a fun and unique way. We invite you to bring your students to come to Van Buren Acres and have fun while learning about agriculture!
When Are Field Trips – Field trips are available beginning September 12 through November 3, Weekdays 9 a.m – 3 p.m. Reservations are required for school field trips.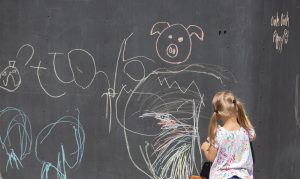 This year's Homeschooling Day is Friday, September 15, 2023. Home schools are encouraged to schedule on this date. 

PLEASE NOTE:  We are open to the public Wednesdays – Sundays from 10 a.m. to 7:00 p.m. and therefore, other people may be visiting the farm if your field trip is on one of those days. If your scheduled field trip is for a Monday or Tuesday, admission will be limited to school groups/home schoolers, as applicable.
What's Included In a Field Trip?
There are plenty of educational opportunities around the farm – from learning how corn and pumpkins grow to learning about the farm animals.

All of the activities on the farm (weather permitting) include, but are not limited to – hayride, jumping pillow, putt-putt golf, barnyard jamboree, corn boxes, hay rolls, pedal cars, slides, soybean maze, corn maze and so much more!

A visit with our animals.

A visit to our pig races.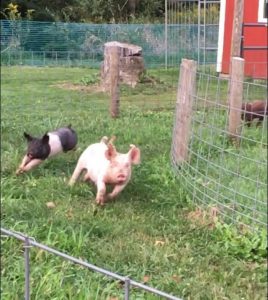 Schools are encouraged to have children pack a lunch. We have numerous picnic tables throughout the farm for kids to enjoy lunch.
How much does a field trip cost?
Field trip only (no pumpkin) $7.00

Field trip with small pumpkin from designated field trip area near front red barn $9.00

Field trip with gem stone mining (no pumpkin $10.00, with pumpkin $11.00).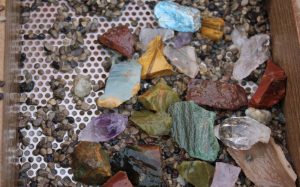 The teacher for each class is free. Additionally, one chaperone is admitted free for every 10 students! Special needs classes will receive a free chaperone ratio of 1 for every 3 students.
Entire group must be paid for in one transaction, unless otherwise agreed to by Van Buren Acres.  Official school checks will be accepted if necessary and should be made out to Van Buren Acres.
For Reservations please Contact Mark VanBuren at 740-404-8656 or e-mail at mavb@att.net
GROUP RATES
Groups of 15 or more will receive a discounted price of $8.00 per person, provided that payment is made in one transaction, unless otherwise agreed upon by management.
BIRTHDAY PARTIES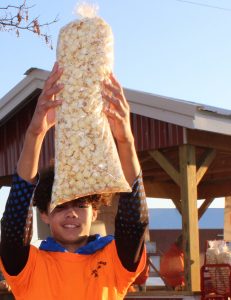 Please contact Mark Van Buren to schedule Birthday Parties in our private event area and to obtain pricing information. Parties will be limited to 3 hour time periods in the special event area (but visitors can continue to visit our main farm area outside of the 3 hour window during normal business hours).
BARN/FACILITY RENTAL
Contact Mark VanBuren at 740-404-8656 or at mavb@att.net for prices and options.